"Doing the same thing over and again, does not produce a different outcome. If we want a different outcome, we must do things differently and do different things."
TEXTBOOKS
A single pedagogy focuses on every child's progress.
Syllabus has a clear progression from easy to difficult which avoids repetition.
Topics are mastered before moving on to the next topic.
Written primarily for the child (makes self-teaching possible).
6 part books (processbooks /tierbooks) make school bags lighter.
Inquiry process, Montessori, Waldorf and Multiple Intelligences are integrated.
BENEFITS: Short term goals help teachers and children feel directed, accomplished, creative, and motivated at the end of each classbook. Smaller book parts link better to a child's psychology and time horizons. Children do more in less time.
ASSESSMENTS
Made by experts, assessments provide quality and standardization.
Personal development plans and on-going self-analysis help every child improve.
Teachers learn how to use assessment data to help their students perfect.
Parents have detailed information on their child's strengths and areas of improvement. Parents greatly appreciate these reports. No more telling at PTM's in what areas a child is weak. Parents become better partners in their child's learning.
BENEFITS: Assessments inspire and empower. They propel a student forward and help them become better partners in their own learning. Teachers work is reduced as they do not need to make worksheets and assessments. Focus changes from completion to perfection.
PROCESSES
Lessons engage all children, for example, sufficient hands-on materialsensure every child's hands-on experience.
Made by experts, assessments provide quality and standardization.
Saved time is needed to focus more on the process of learning than rushing through syllabus at the cost of perfection.
More 'thinking time' means more learning.
Homework is for a different purpose: self-learning picking up where classroom teaching ends.
Teachers use peer-learning and checking to get instant feedback and correct any misunderstandings immediately.
BENEFITS: eachers workload while improving outcomes from learning. All children and parents feel supported, yet children feel challenged at their level. Teacher accountability and transparency are built-in.
TEACHER TRAINING
Systematic and relevant to each lesson.
Each chapter/ unit instructs and trains teachers. Instructions are simple, visual and clear.
Hands-on learning materials are used to implement advanced teaching techniques.
Parents and children have the same teacher pages. This builds greater accountability and also appreciation for a teacher's efforts that provides encouragement to the teacher to continue with her new activities.
Teacher planners make their work more efficient and effective.
Less experienced teachers feel supported.
BENEFITS: Teacher training has impact on classroom practice. The majority of homework is done in a class using peer or self-checking to provide instant feedback and corrective action.
Roleplays help make morals real through choices and consequences
An initial set of roleplays are given to the school. Children make their own roleplays after learning from those provided.
Roleplays have other benefits too. These improve:
the power of expression in Spoken English and other languages
body language and personality
script writing, team work and leadership
Social Service Project

Engage your students in an effective SUPW / FA / Service Learning project for teaching any illiterate person (like a domestic helper) to learn how to read. The Global Dream project was launched with the participation of some150 schools of Lucknow and surrounding cities with 66,000 students participating. Other language versions are being finalised for English, Marathi, Gujarati, Kannar, Telugu, Tamil, Oriya, Bengali and Urdu, among others.
Global Dream is a non-profit initiative of Global Classroom, in collaboration with DEVI--Dignity Education, Vision International
Global Classroom Education
A transformative and meaningful education based on the Four Building Blocks of Education: Universal Values, Global Understanding, Excellence in All Things, and Service to Humanity.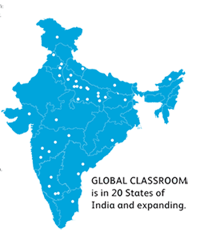 Started by educators (from a family of well-known educators based out of Lucknow)
Shaped in real classrooms (in Iceland, US, UK, Czech Republic, Sri Lanka, Nepal and India, among other countries)
Guided by vision (the Four Building Blocks as above)
Grounded in worldwide research and evidence (John Hattie and others)
Based on travel to and first-hand study of education in 38 countries (by the Founder)
Supported by an Experienced Team
R & D team consists of 125 individuals (national and international experts) based out of Lucknow.
Over 200 individuals including sages and advisors from six continents.
Perfected since 2000 with pilots in Iceland, UK and India.
Directed by Dr Sunita Gandhi, PhD, Cambridge University, UK, Founder, Council for Global Education, USA. In addition Sunita Gandhi is the Chief Academic Advisor of City Montessori School (CMS), Lucknow, which is the world's largest school, a Guinness World Record holder, and recipient, UNESCO Prize for Peace Education

"Our purpose is to nurture children into confident, competent and caring individuals, capable of making a meaningful contribution to their family, society and the world when they grow up. History has shown when individuals compete with themselves, they succeed more." Sunita Gandhi

Global Classroom: A purpose-driven team singing for Global Dream, Leave No One Behind campaign for literacy.
Our Curriculum
Early signing up
You can bring the parents and teachers and board, include Global Curriculum in the new fee structure for next year, profile your new program your annual magazine, etc.in
You can also train your teachers in advance of the next session.